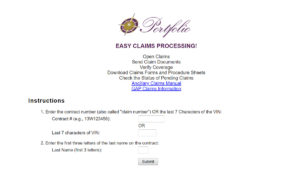 Portfolio's new GAP and ancillary claims website was designed to streamline the submission and adjudication process.
LAKE FOREST, Calif. — Portfolio announced the launch of a new website for GAP and ancillary claims. The new site features a fully redesigned interface intended to offer easy navigation and a better overall user experience.
Executives said users can quickly download forms and procedures, check the status of a claim, verify coverage and access contract claims manuals — all without printing a page or picking up the phone.
"Claims are a big part of Portfolio's business, and we want every part of that process to be fast and friendly," said COO Lori Hallissey. "We would put our people and practices up against any other provider's, and that's the standard we applied to our new website."
Hallissey said Portfolio's new GAP and ancillary claims website is live now and accessible to all users, new and returning. To visit the site, click here.
About Portfolio
Portfolio is a national provider of F&I products and dealer reinsurance programs. Founded in 1989 and based in Lake Forest, Calif., and Dallas, Portfolio has earned national recognition as a leading dealership and agency partner.
Contact
Tariq Kamal
949-544-8005
[email protected]
##