UPDATE: The shutdown driven by the CoronaVirus will greatly impact every category in 2020. This should be viewed as a run rate prior to the shutdown.
For 2020 Personal Safeguards Group projects over $61b at retail for consumer related service contracts.
Automotive continues to lead the industry in terms of gross revenue with 2020 projected at over $33b for Vehicle Service Contracts and over $6.4b for Ancillary products.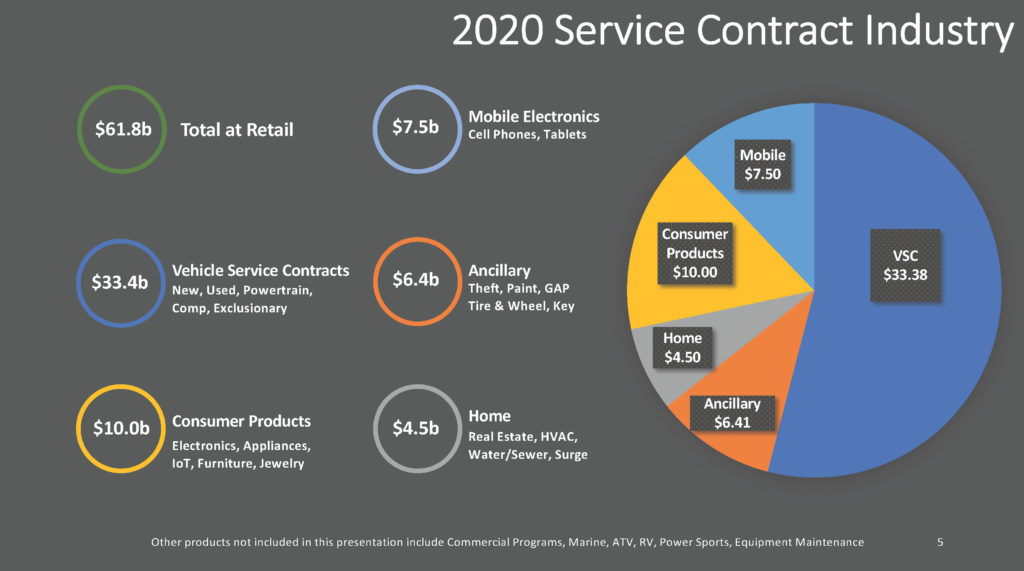 Personal Safeguards Group, LLC (PSG) is a leading Service Contract, Limited Warranty and Specialty Insurance firm supporting Manufacturers (OEM's), Marketers, Retailers, Dealers and Solution Providers in multiple industry verticals.
PSG provides Brokerage and Advisory Services to:
OEM's and Retailers seeking to form an in-house service contract provider
InsureTech companies seeking to enter or expand their Service Contract segments
Internet of Things (IoT) companies seeking product differentiation through service
Insurance Carriers exploring opportunities to enter the Service Contract industry
Service Contract Providers seeking support with partnerships, products and other custom needs
Venture Capital and Private Equity investors analyzing the Service Contract industry