Investment in Business Positions Company for Growth
OnPoint Warranty Solutions, LLC, a leading provider of underwriting, service contract, and manufacturer's warranty programs, plus logistics and service administration, has closed on its Series A  funding from prominent Louisville business investors.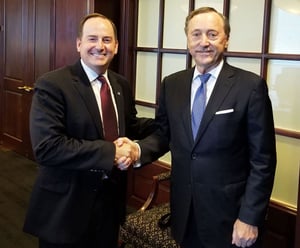 The funding round, led by Jim Patterson and Jim Patterson II, clients of Ed Glasscock, Chairman Emeritus of Frost Brown Todd, will position OnPoint Warranty to support future growth in its service contract and service administration business.
Capitalizing on decades of experience in the industry of providing service contract, extended warranty and service administration solutions to retailers, manufacturers, service provides and to consumers directly, OnPoint's management team launched OnPoint in April of 2018, to drive a step change in the service contract business.
Built on a foundation of global insurance partners, cutting edge service administration technology, an omni-channel consumer service platform and a multi-national, high-touch network of service professionals, OnPoint enables clients to connect with their consumers in real time, delivering a seamless, branded product experience from the point of sale to service and beyond.
Chris Smith, CEO, OnPoint stated, "in an era where emerging technology and the millennial consumer are driving the need to reevaluate how we as service providers interact with consumers, OnPoint has assembled a team of experts, a technology platform built with the consumer at its core and a network of highly vetted service professionals incentivized to deliver great experiences.  OnPoint is changing the industry because we're approaching our delivery model from the consumer's perspective. We meet consumers where they are – anytime, from any device – delivering valuable service solutions for every product they own. Consumers engage with OnPoint first as service contract holders and then come to rely on OnPoint as a single solution service provider as we deliver value added products and services over their lifetime.  The investment by Mr. Glasscock and Pattco positions us to drive the best service experiences for every consumer."
About OnPoint Warranty Solutions, LLC.
OnPoint was launched by customer experience experts with proven success helping global brands deliver underwriting, service contract and manufacturer's warranty programs, service fulfillment, service administration technology and logistics, to drive the highest levels of consumer experience in the service industry. Building on the foundation of a connected, multinational service network, omni channel customer interactions and consumer-focused technology, OnPoint creates brand loyalty through service contract and service solutions designed to reduce risk, increase efficiency, delight consumers and improve our customer's bottom line.  For more information, visit our website:  www.onpointwarranty.com
Source:  https://www.onpointwarranty.com/about-us/blog/closes-series-a-funding-round