Request your webinar recording and presentation today!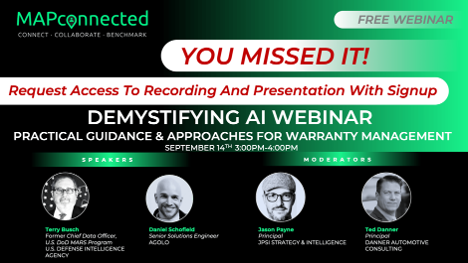 URL: https://www.mapconnected.com/demystifying-ai-webinar-request-access-to-recording-and-presentation/
Artificial Intelligence is a hot topic, yet many organizations don't know where or how to start. Earlier this month, MAPconnected and Agolo delivered a webinar, where they cut through the "noise" and discussed real-world best practices for deploying AI.
Terry Busch – former Chief Data Officer for the U.S. Defense Intelligence Agency (1997-2020) shared best practices used by defense and intelligence leaders to evaluate, deploy, and manage AI. Daniel Schofield, Senior Solutions Engineer at Agolo, reviewed recent innovations within AI and how they can be applied to warranty management operations.
Moderated by industry thought-leaders Ted Danner and Jason Payne, this webinar was geared to warranty professionals wanting to operationalize AI successfully within their organizations such as:
Claims processing automation
Tracking components by supplier
Campaign & recall predictive alerting
Recall tracking
Quality & manufacturing early-warning detection
Claims reporting, analysis & fraud detection
Synchronization & analysis of disparate data (internal, 3rd party, publicly available)
Speakers:
Agolo will also be exhibiting in the Tech Expo at the Vehicle Service and Warranty Lifecycle Summit, October 24-25 at the Henry Hotel Dearborn, MI. URL:www.vehicleserviceandwarrantylifecyclesummit.com
Request your webinar recording and presentation today!
URL: https://www.mapconnected.com/demystifying-ai-webinar-request-access-to-recording-and-presentation/
For more information: [email protected]